"Content is king" is a buzzphrase in the world of digital marketing. This popular phrase originated from a 1996 essay by Microsoft founder Bill Gates where he discussed how he sees the future of the internet as a marketplace for content. While the concept that "content is king" isn't new, it still holds true up to this day as the success of a website largely depends on quality content that doesn't only meet the demand of its target audience, but is also optimised for search engines.
The Role of Content Marketing In Businesses
With the rapid advancements in technology, consumers have become more tech-savvy and reliant on the internet. Because of this, online presence has quickly become a necessity for businesses to stay competitive.
Brands continuously strive to reach their potential customers, and right at the heart of digital marketing lies content. Content marketing is centered on developing and distributing relevant and valuable content with the aim of engaging potential and existing customers, as well as catalysing business growth.
Through effective content marketing strategy, businesses can attract their target consumers and convert them into actual sales. Aside from driving sales, high quality content can also promote brand awareness, establish your brand's authority, build a connection with your target community, and instill trust and confidence in your brand.
How Popular Brands Implement Effective Content Marketing
Because content marketing has evolved into a necessity for businesses, even popular brands continuously develop campaigns and initiatives to stay competitive. There are some elements that are essential for effective content marketing. We highlight some examples below:
Personalised: Coca-Cola's "Share a Coke" Campaign
Great content often starts with making your audience feels that they have all your attention. In 2011, Coca-Cola started "Share a Coke" campaign which gives customers the chance to personalise their own bottle with their name on the Coca-Cola website or look for their name in grocery stores or gas stations. The campaign went viral and is still going strong today. Aside from the printed and social media initiatives, Coca-Cola also released videos showing friends sharing the popular beverage with their name on it.
Entertain: Hootsuite's Game of Thrones Video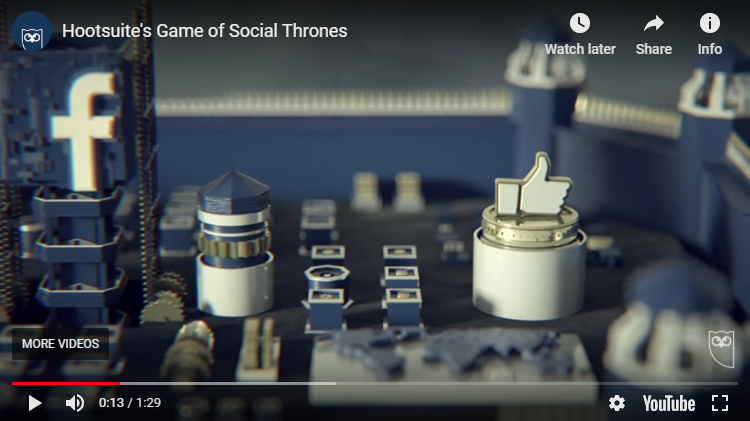 Another effective way to capture the attention of consumers is by tapping into pop culture. Hootsuite, the social media management tool paid tribute to the hit HBO TV series Game of Thrones while getting across the value of their product. They recreated the opening sequence of GoT to show the different social media platforms instead of the warring kingdoms, and ended the video with "Hootsuite – Unite your social kingdom."
Educational: HubSpot's Blog
In the sphere of content marketing, it's impossible not to mention HubSpot. It regularly publishes informative and engaging SEO-driven content that is optimised for conversions. HubSpot does a great job in aiding readers further along in their purchase journey, keeping everything ready for prospects to move onto the next step.
Inspire: Nike's User-Friendly and Intuitive Website
Nike is the world's largest sneaker maker. Besides its top quality products, its content marketing also helps put it on top. When you explore Nike's website, you'll find high quality images, engaging video content, and people expressing emotions and social values openly—this is what content marketing done right looks like!
They also have long-form video content such as the YouTube mini-series entitled Margot Vs. Lily created with the help of Hollywood writer Jesse Andrews and director Tricia Brock, which showcases actors dressed in Nike products. It proved to be an effective way to connect with one of their core groups of target consumers—the younger female demographic.
GoPro's User-Generated Content
GoPro, the leading manufacturer of action cameras, has leveraged user-generated content and created a platform which mostly consists of well-edited video compilations of GoPro users. It celebrated hitting the 2-billion views mark on their YouTube channel this year, with very little of the content created solely by GoPro themselves. Because the videos are user-generated, they cost comparatively less to produce.
Creating high quality content proves to be profitable in the long run. However, it is important to remember that a one-size-fits-all approach doesn't work. Good thing, the content marketing specialists at Verba Content can help you devise a content marketing strategy that is tailored specifically to your brand and business needs. If you want to learn more about how we can help you or discuss a project, contact us today and let's get started.